@recycled-material://cdn.shopify.com/s/files/1/0293/9627/1197/files/icone__2_232x.jpg?v=1614288853@@made-in://cdn.shopify.com/s/files/1/0293/9627/1197/files/icone__3_232x.jpg?v=1614288853@@social-impact://cdn.shopify.com/s/files/1/0293/9627/1197/files/icone__1_3_232x.jpg?v=1614288853@
Men Recycled Cotton Trousers Brando
Brando is a long straight leg pant made of 100% sustainable cotton yarn, of which 50% is recycled. Comfortable and cool on the skin, it adapts to waist size thanks to its internal elastic and drawstring. What makes it unique and even more sustainable is a delicate dyeing process made with natural mineral pigments.
Adjustable waist and side pockets
Dyeing with natural pigments
COMPOSITION: 50% recycled cotton from production surplus, 50% organic cotton.
WASHING CARE: To best take care of this recycled item, wash it at 30 degrees on a gentle cycle. If possible, prefer handwashing. We recommend that you wash the garment inside out and do not dry it by exposing it to direct light. Iron at minimum temperature, avoid tumble dryer and dry cleaning.

REGULAR: This garment has a regular fit. We recommend your usual size. See the size chart for further information.
This garment was made in Prato by Enrico, a few kilometers from our office.
The recycled cotton yarn we use is certified Oeko-tex 100.
Free standard shipping in 3-5 days for all orders over 150€ for EU countries. Size exchange and free returns within 60 days. For shipping times and costs, see our table. You can choose Repack, the reusable packaging.
2 YEARS LOVE LASTS WARRANTY: All Rifò garments are handcrafted with passion, respecting high quality standards. If, during two years from the purchase, you ever find some manufacturing imperfection in Rifò products, we will repair them and return them to you as new. For more information, visit this page.
PRESALE
Shipping from: 12/04/2023
By pre-ordering our products we are able to offer a discount without overproduction.
For presales that are longer than 2 weeks, the closer you get to the shipping date, the more the discount applied will decrease,never going below 10%.
The presale ends one day before the date indicated.
If your order also includes one or more non-presale products that you would like to receive earlier, you can request two separate shipments. All instructions will be sent to you by email.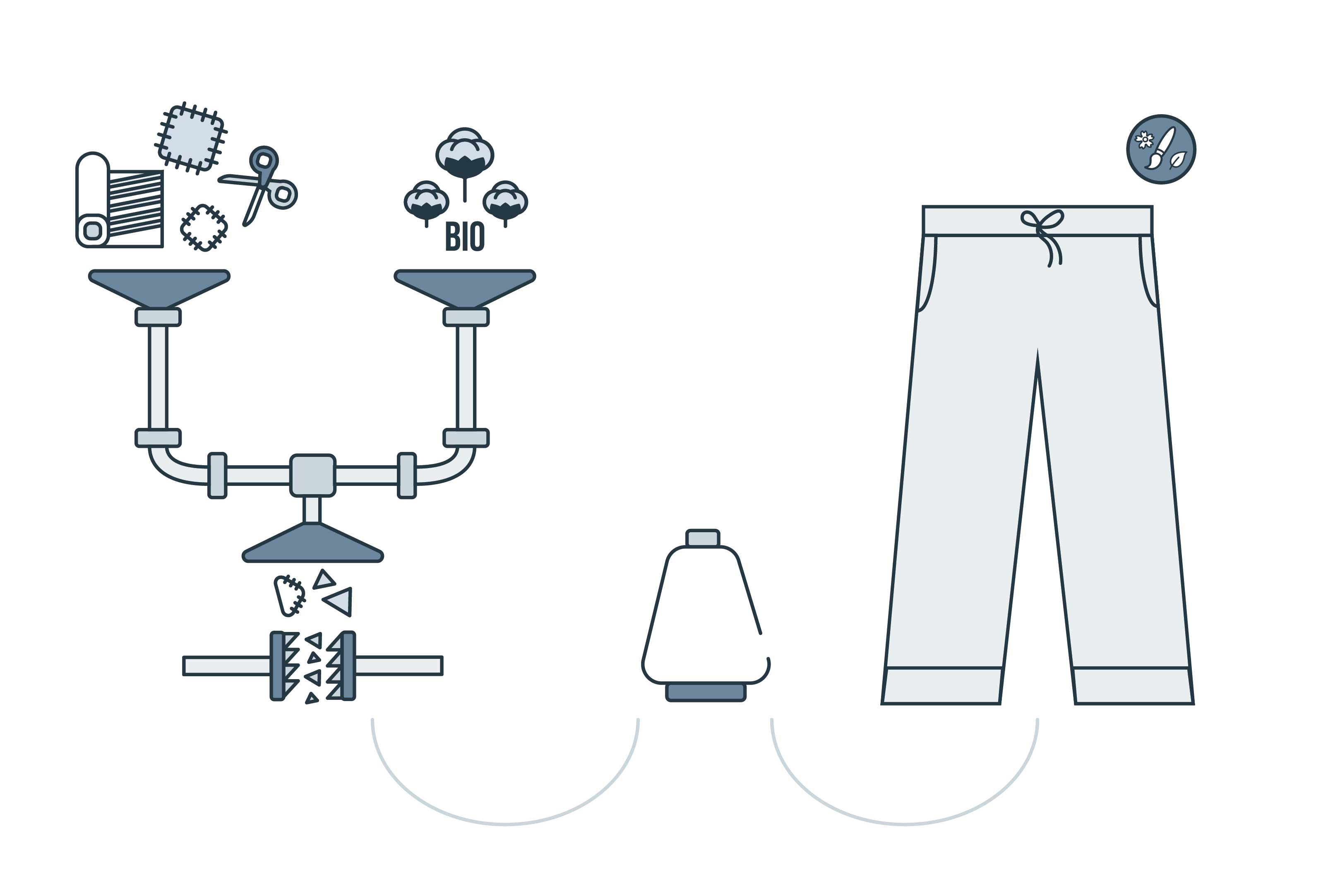 How it is made
With this composition, we have achieved the goal of an all-natural fabric.
Natural composition, made of 50% recycled cotton from industrial surplus and 50% organic virgin cotton.
Natural dyeing, made with mineral pigments from ground volcanic rocks. A low-impact process that gives each garment a delicate texture as well as a unique color effect.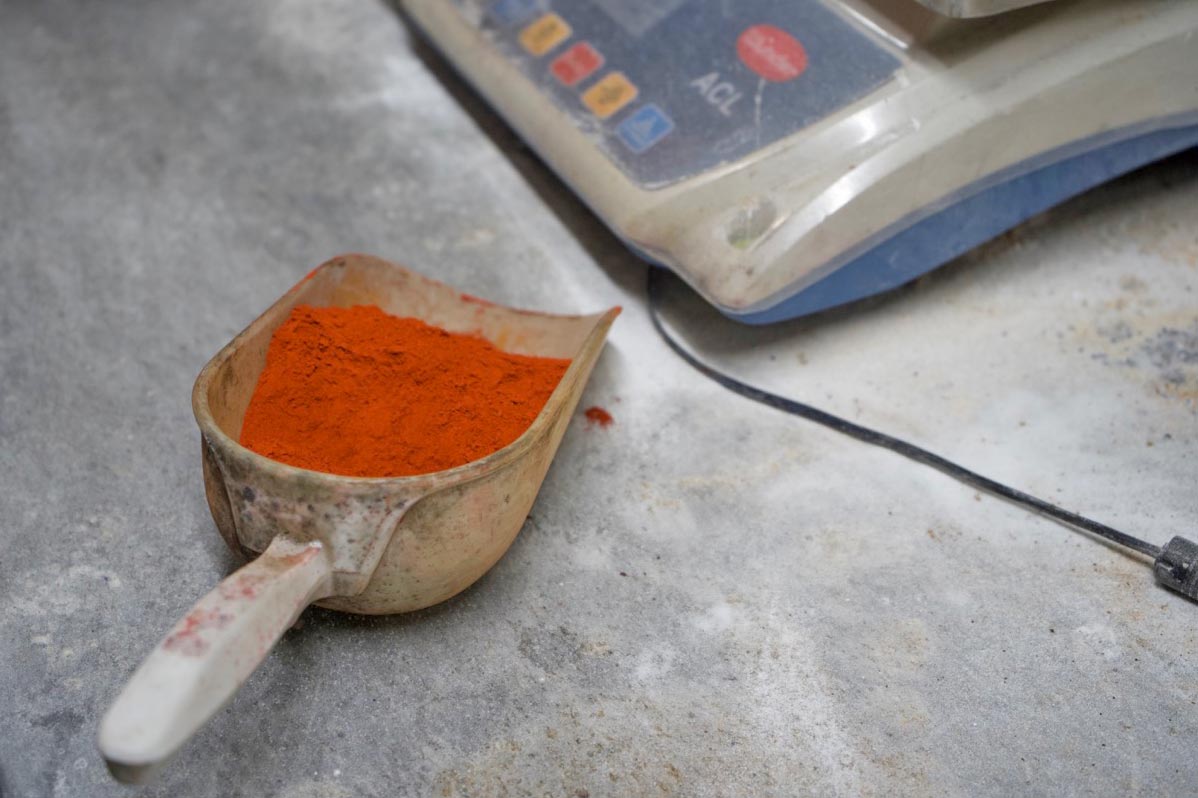 All the shades of the earth
Using this technique, the range of possible colors is linked to volcanic rocks and varies from grays to greens, from reds to yellows, all strictly in pastel shades.
The rocks, originating from the Mediterranean area, are dry-ground without the addition of any components.
This process is a hybrid of industrial and artisanal and causes the color to be deposited on the fabric less uniformly than synthetic dyes. The result is a garment with a unique and almost iridescent color, but at the same time solid and reproducible.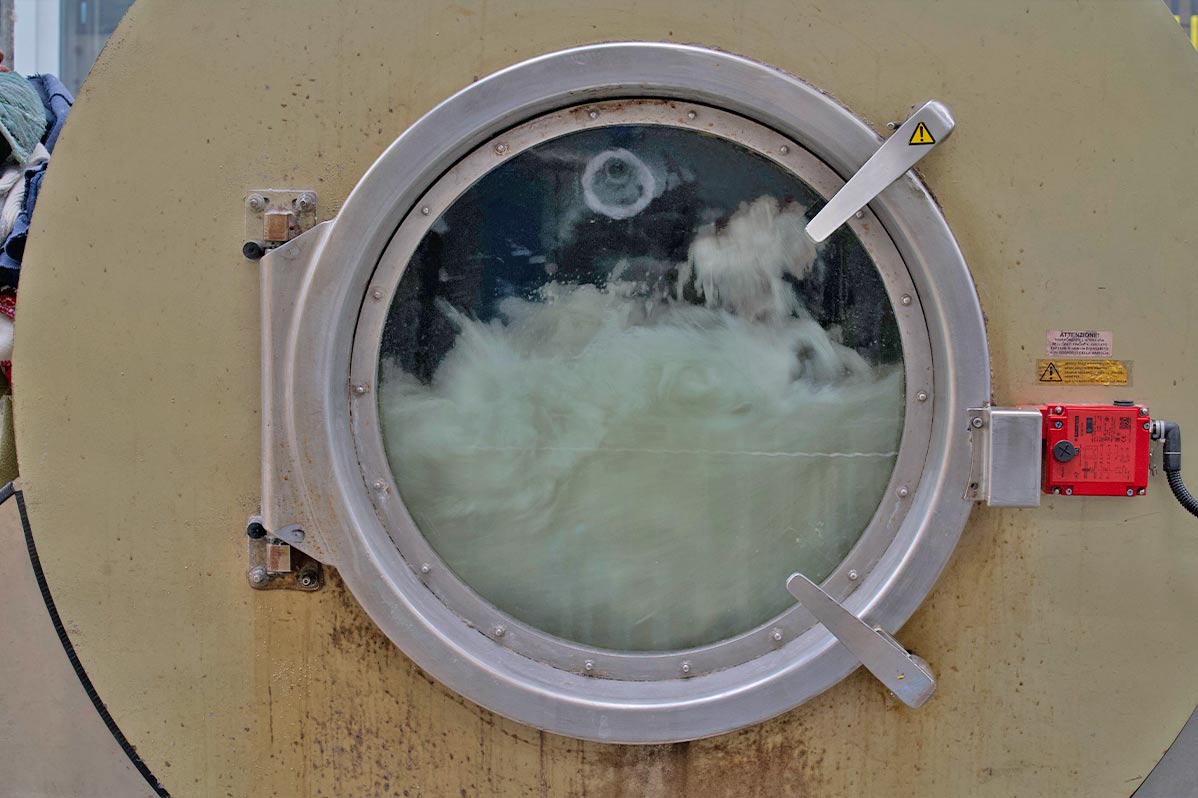 Environmental impact
Natural dyes derived from mineral elements do not involve the use of any chemicals, thus contributing to making a natural fabric even more biodegradable. They are not harmful to the people who work with them and do not pollute when discharged into water.
To top it off, they result from a coloring process that reduces water and energy consumption, thanks to a water recycling and purification technique that allows for the use of up to 80% recycled water.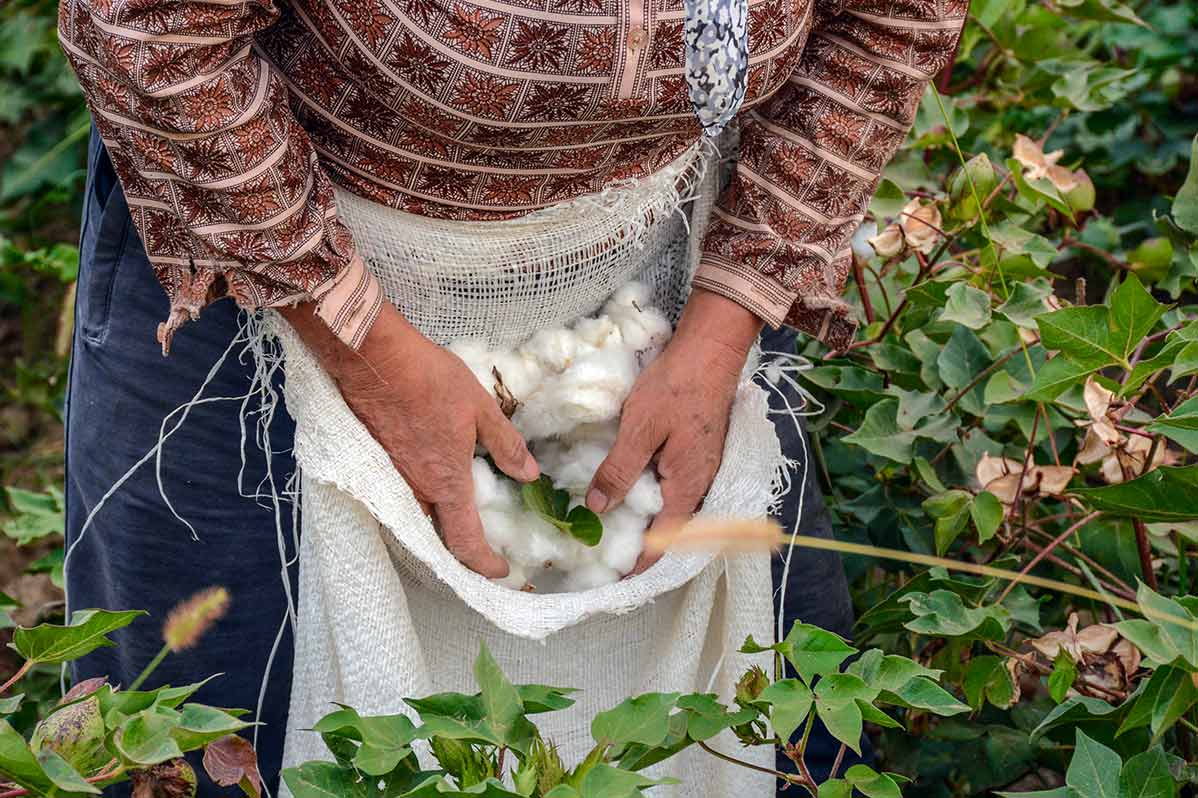 Recycled and organic cotton
The organic cotton component, then, which comes from non-intensive cultivation does not deplete the soil and therefore requires much less water. Overall, this material, combined with recycled cotton, saves about 84 percent compared to a cotton that's genetically modified to be more productive.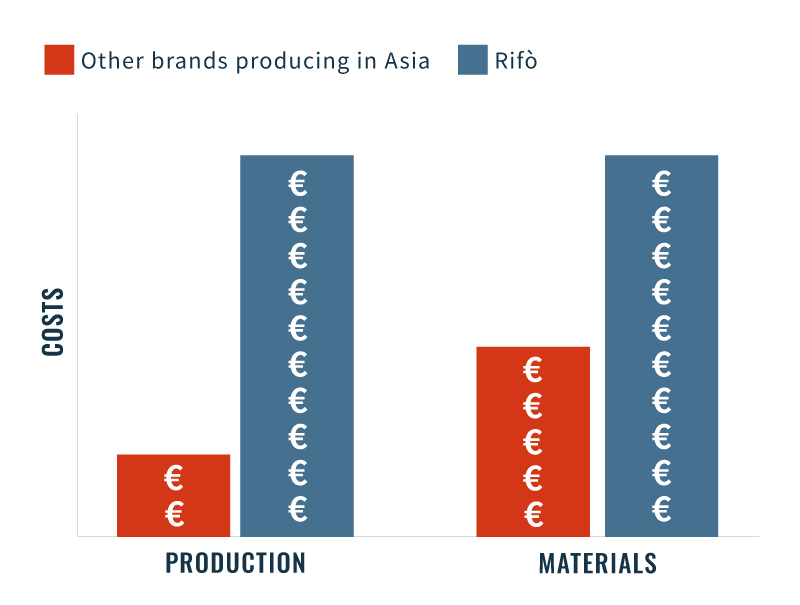 Transparent prices
Why do we say our prices are fair 365 days a year?
Because we choose to produce in Italy, with valuable craftsmanship. Because we choose quality raw materials that are sustainable for the planet. Because we produce small quantities to limit waste, which makes it difficult for us to lower unit costs.
That's not all. Compared to our costs, we have a low profit margin. We don't intend to accumulate wealth, we rather reinvest in research, which allows us to create value and grow as a brand.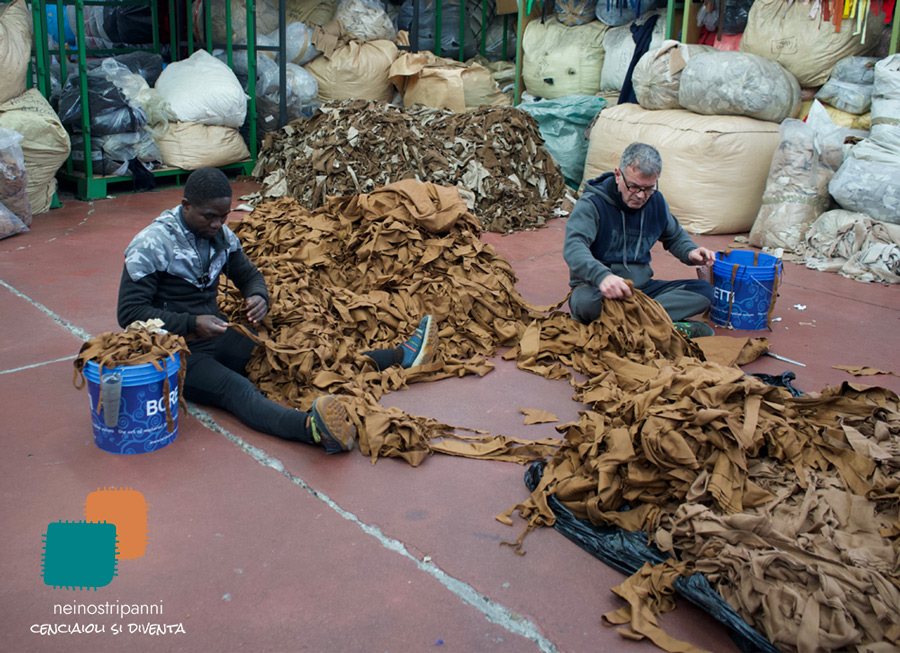 Social impact
For every purchase on our online shop, we will donate 2€ to the social impact project Nei nostri panni, cenciaiolis to be, which aims to create a school for cenciaioli, the artisans of textile recycling. Every donation will support the training of young people coming from the local immigrant reception centres.
Thanks to presale it's possible to get a discount and avoid creating overproduction.
For presales that are longer than 2 weeks, the closer you get to the shipping date, the more the discount applied will decrease, never going below 10%.
The presale ends one day before the date indicated.
Natural color dyes do not contain any chemicals, except for a mordant used to bind the color to the fabric. As a result, when these dyes eventually end up in the drains, the mineral rock powders used in this type of dye do not pollute groundwater and help make the garment even more biodegradable.