@recycled-material://cdn.shopify.com/s/files/1/0293/9627/1197/files/icone__2_232x.jpg?v=1614288853@@made-in://cdn.shopify.com/s/files/1/0293/9627/1197/files/icone__3_232x.jpg?v=1614288853@@social-impact://cdn.shopify.com/s/files/1/0293/9627/1197/files/icone__1_3_232x.jpg?v=1614288853@
Recycled Cotton Jeans Cardigan Women Cara
The button-less recycled cotton jeans cardigan for women Cara is made with yarns obtained from recycled jeans. It has soft puffy sleeves with high ribbed cuffs. Cara is available in three shades of denim blue: each batch is unique and varies depending on the recycled garments. For this reason, there may be some lighter and darker traces of "other fibers" in the yarns, which give a nice effect to the clothes.

11 cm high ribbed balloon sleeves
Cardigan stitch
Length to the second hip
Comfort fit
Ribbed bands and cuffs reinforced with a little portion of Lycra to keep the shape at its best
COMPOSITION: 80% recycled jeans, 15% natural cotton and 5% other fibers. What are other fibers? The yarns from hems and other trimmings in old recycled garments that cannot be traced.
WASHING CARE: The denim yarn of our knitted garments behaves similarly to that of classic trousers. After a few wears , you can bring it back to the original form by washing it at 30°. If you decide to wash it by hand, firstly make a light centrifuge to drain the water, then dry it naturally by lying it on a horizontal board: this yarn is very subject to stretching due to the weight of water.
COMFORT: This garment has a slightly loose fit, which does not hug the body. According to your preferences, consider choosing the size that corresponds to your measurements or a size down. See the size chart for further information.
The recycled jeans sweater Cara is made by Fabio, 5 km from us, with yarns recycled in Prato.
The recycled yarns we use are certified.

Free standard shipping in 3-5 days for all orders over 150€ for EU countries. Size exchange and free returns within 60 days. For shipping times and costs see our table. You can choose Repack, the reusable packaging.
2 YEARS LOVE LASTS WARRANTY: All Rifò garments are handcrafted with passion, respecting high quality standards. If you ever find some manufacturing imperfection in Rifò products, we will repair them and return them to you as new. For more information visit this page.
PRESALE
Shipping from: 28/02/2023
By pre-ordering our products we are able to offer a discount without overproduction.
For presales that are longer than 2 weeks, the closer you get to the shipping date, the more the discount applied will decrease,never going below 10%.
The presale ends one day before the date indicated.
If your order also includes one or more non-presale products that you would like to receive earlier, you can request two separate shipments. All instructions will be sent to you by email.
How it was made
Cara sweater is made from old denim fabrics transformed into a new yarn. Its composition is 80% recycled cotton, 15% virgin cotton and 5% other fibers. Rifò jeans sweaters are almost unique pieces and cover all shades of blue, because no further industrial dyes have been used to make it, and the colors come directly from the old pair of jeans.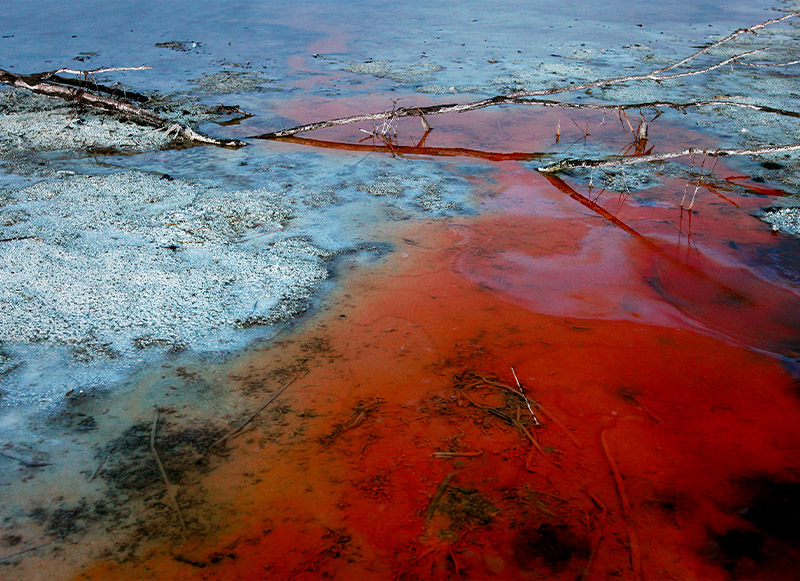 Environmental impact
To make each Rifò denim garment we estimate that they have been recycled from two to five pairs of old jeans consuming only 80 liters of water, against the 3000 required by an identical virgin cotton garment. The result is a reduction of roughly 87% water consumption, 77% energy and 93% CO2.
Social impact
For every purchase on our online shop, we will donate 2€ to the social impact project Nei nostri panni, cenciaiolis to be, which aims to create a school for cenciaioli, the artisans of textile recycling. Every donation will support the training of young people coming from the local immigrant reception centres.
Who made it
This sweater was made in Fabio's family business in Prato, thanks also to the expertise of his collaborators Camilla and Lara. The care with which they make the garments is equal to the good vibes you can feel in the company: every time we visit them they are in the middle of celebrating an employee's birthday!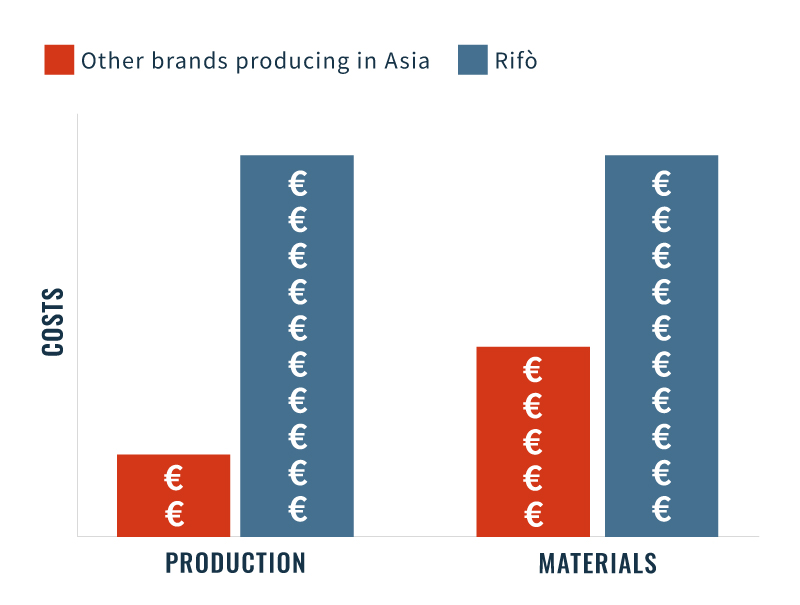 Transparent prices
Why do we say our prices are fair 365 days a year?
Because we choose to produce in Italy, with valuable craftsmanship. Because we choose quality raw materials that are sustainable for the planet. Because we produce small quantities to limit waste, which makes it difficult for us to lower unit costs.
That's not all. Compared to our costs, we have a low profit margin. We don't intend to accumulate wealth, we rather reinvest in research, which allows us to create value and grow as a brand.
Thanks to presale it's possible to get a discount and avoid creating overproduction.
For presales that are longer than 2 weeks, the closer you get to the shipping date, the more the discount applied will decrease, never going below 10%.
The presale ends one day before the date indicated.