@recycled-material://cdn.shopify.com/s/files/1/0293/9627/1197/files/icone__2_232x.jpg?v=1614288853@@made-in://cdn.shopify.com/s/files/1/0293/9627/1197/files/icone__3_232x.jpg?v=1614288853@@social-impact://cdn.shopify.com/s/files/1/0293/9627/1197/files/icone__1_3_232x.jpg?v=1614288853@
Wool and Cashmere Detergent Fiori di Olivo
The detergent for wool and cashmere Fiori di Olivo is formulated for the most delicate garments.Its composition was designed to clean and care for them at the same time, favoring their durability. Ideal for wool, cashmere - but also for silk - for a very soft result and a natural, light fragrance based on essential olive oils.
500 ml
36 wash cycles
recycled and recyclable packaging
SUSTAINABILITY: We created the detergent Fiori di Olivo to respect the environment. This product being biodegradable, it will not pollute the seas and waters. Its recycled plastic packaging is also recyclable, just as the aluminum screw cap, a practical dispenser which allows not to waste a single drop of the product. This laundry detergent is vegan, none of its components were tested on animals.
By hand: when washing garments by hand, use a very small amount of product, optimizing consumption and avoiding waste. For every 10 litres of water, 10 ml of the Fiori di Olivo soap is sufficient, i.e. about two caps. Use water at a temperature of no more than 30° and let the garment soak in the water for about ten minutes. After rinsing the laundry, wring out the excess water and always leave the garment to dry on a horizontal surface to prevent the fibres from stretching under their weight.
In the washing machine: When washing wool and cashmere in the machine, consider the weight of the laundry to be washed. For every 5 kg of clothing, 20 to 30 ml of the product is sufficient. For delicate garments in the washing machine, always select delicate wash at a maximum of 30° and perform a light spin cycle to drain the water. Then dry on a horizontal surface to prevent the fibres from stretching.
This Fiori di Olivo detergent is vegan, as none of its components have been tested on animals.
Its delicate fragrance is natural and comes from olive essential oils, which are present in small amounts since they are concentrated.
Here you can find the the data sheet of Fiori di Olivo, which is perfect for cashmere, wool and all delicate garments.
Here, instead, find all the details on the Material Safety Data Sheet.
Free standard shipping in 3-5 days for all orders over 150€ for EU countries. For shipping times and costs see our table. You can choose Repack, the reusable packaging.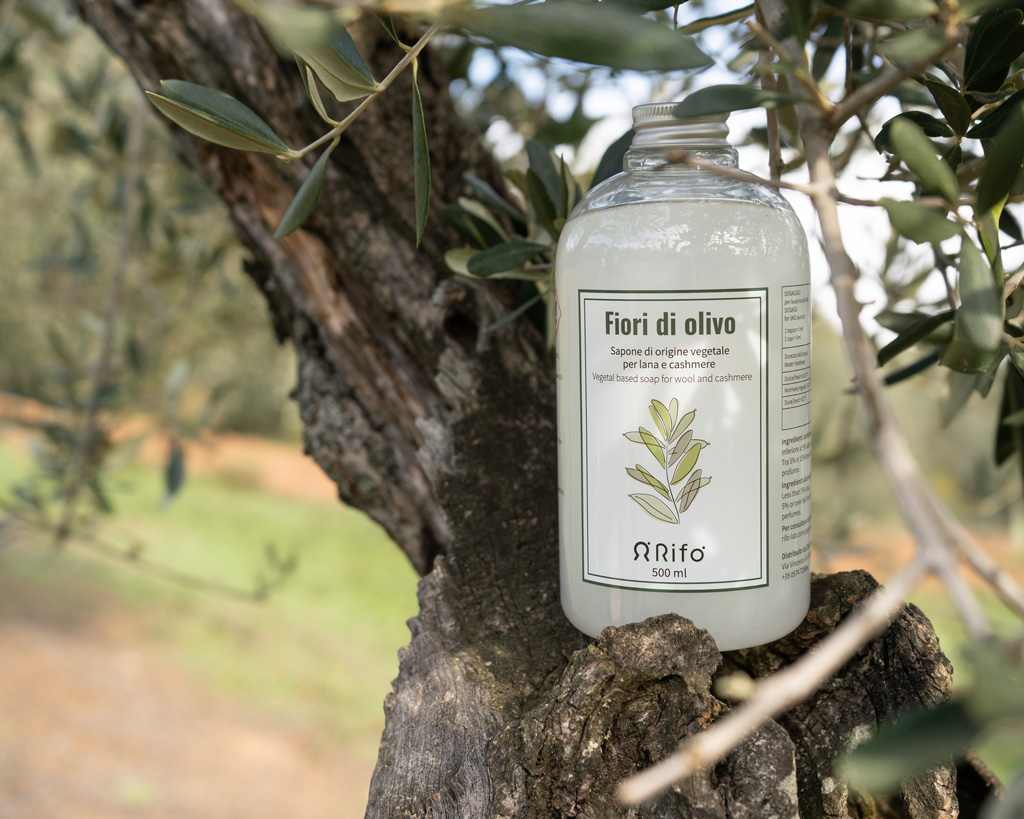 A natural detergent for delicate garments
You won't believe it but this natural soap is also made a few kilometers from us. Actually, its formulation was conceived with the help of a local lab to be an eco-friendly product and an effective, yet delicate detergent for the most demanding fibers.
Thanks to presale it's possible to get a discount and avoid creating overproduction.
For presales that are longer than 2 weeks, the closer you get to the shipping date, the more the discount applied will decrease, never going below 10%.
The presale ends one day before the date indicated.