Do you have any wool, cashmere sweater, or jeans that you no longer use?
Let us take care of them; we'll rescue them from ending up in landfills transforming them into a new resource.
They can be reused or recycled through our circular service for collecting used clothing.
As a thank-you, we'll send you a €10 discount voucher to use on our online shop.
Choose home pickup with a courier at our expense or find the nearest drop-off box to you!
[TAKE BACK SERVICE ACTIVE ONLY IN ITALY]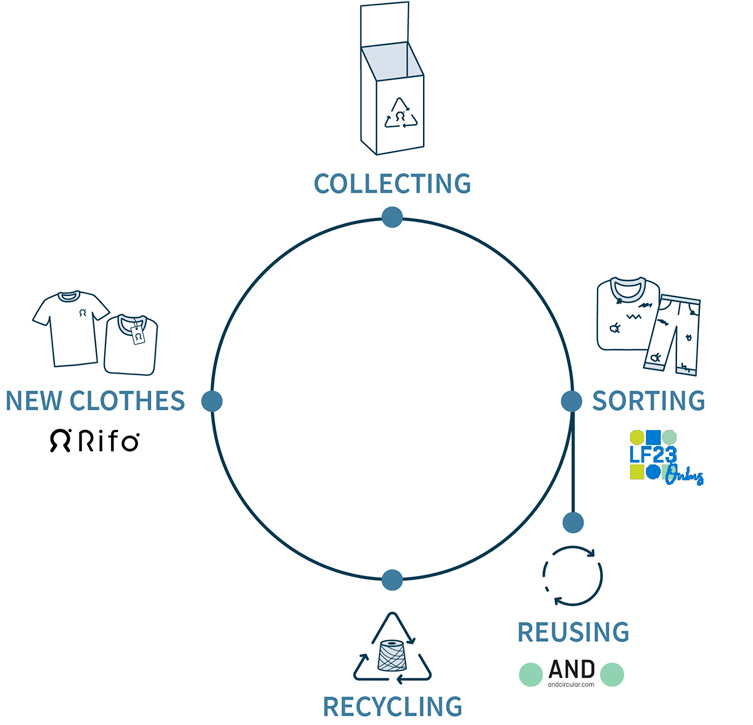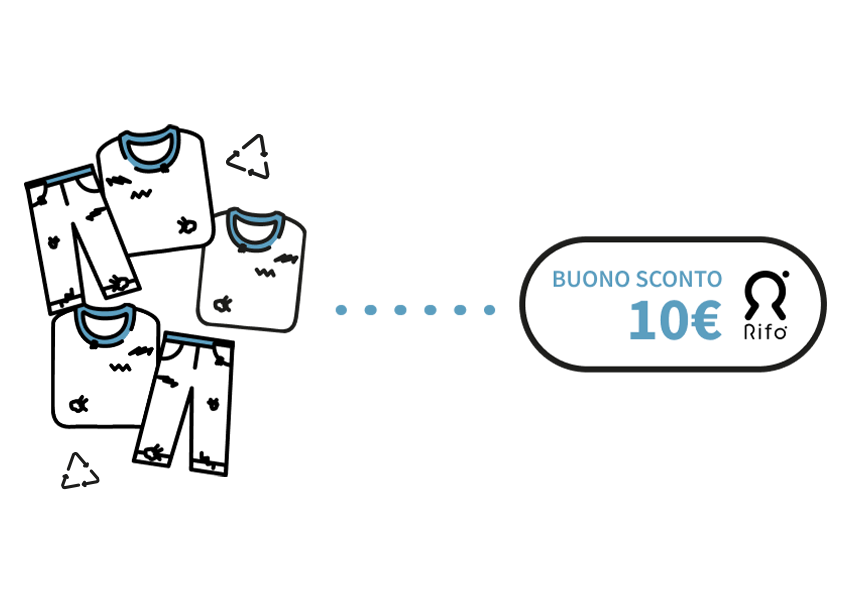 How does it work?
1. Select your garments made of wool, cashmere, or jeans that you no longer wear. We collect ONLY wool and cashmere sweaters and long denim pants.
2. Check their label to ensure they have a pure composition. We tolerate up to 5% of another material, provided it is not synthetic (e.g., 95% wool, 95% cashmere, or 95% cotton in the case of jeans).
3. Choose a delivery method: you can schedule a free home pickup or find the nearest drop-off box on the map below. The home pickup service is only available in Italy.
4. For each shipment, you will receive a €10 discount voucher to use in our online shop for an order of at least €50, even on pre-sale items. These vouchers cannot be combined in a single order and cannot be combined with the free shipping code.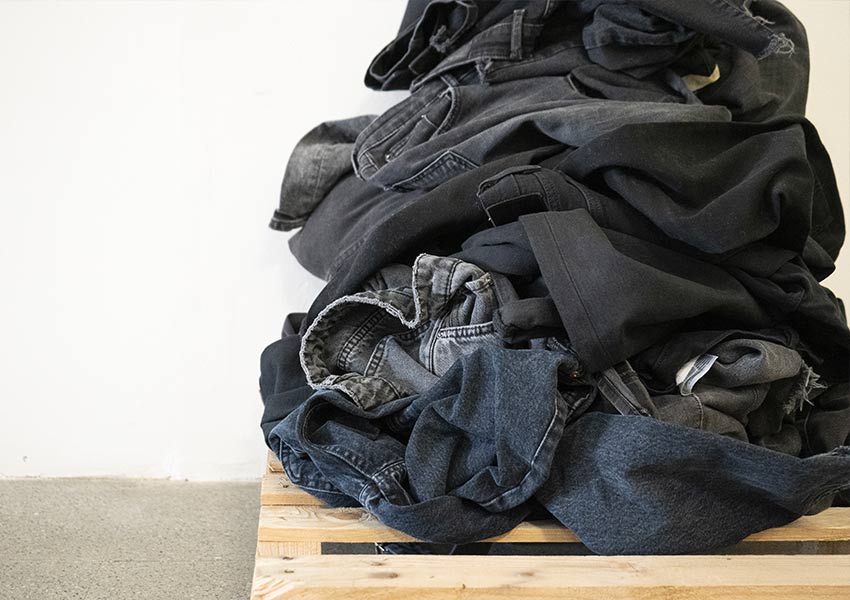 Home pickup (active only in Italy)
🔍 First, check the composition label to ensure your items are at least 95% cashmere, wool, or cotton.
If you have a minimum of 5 used items that meet these criteria and you'd like to contribute to this circular economy project, we will send a courier directly to your home for pickup. You won't need to print anything because the courier will already have the prepaid shipping label.
To minimize the CO2 impact of transportation, we've had to require a minimum of 5 garments for this service, but remember that you can also collect items from family, friends and acquaintances to meet the minimum requirement.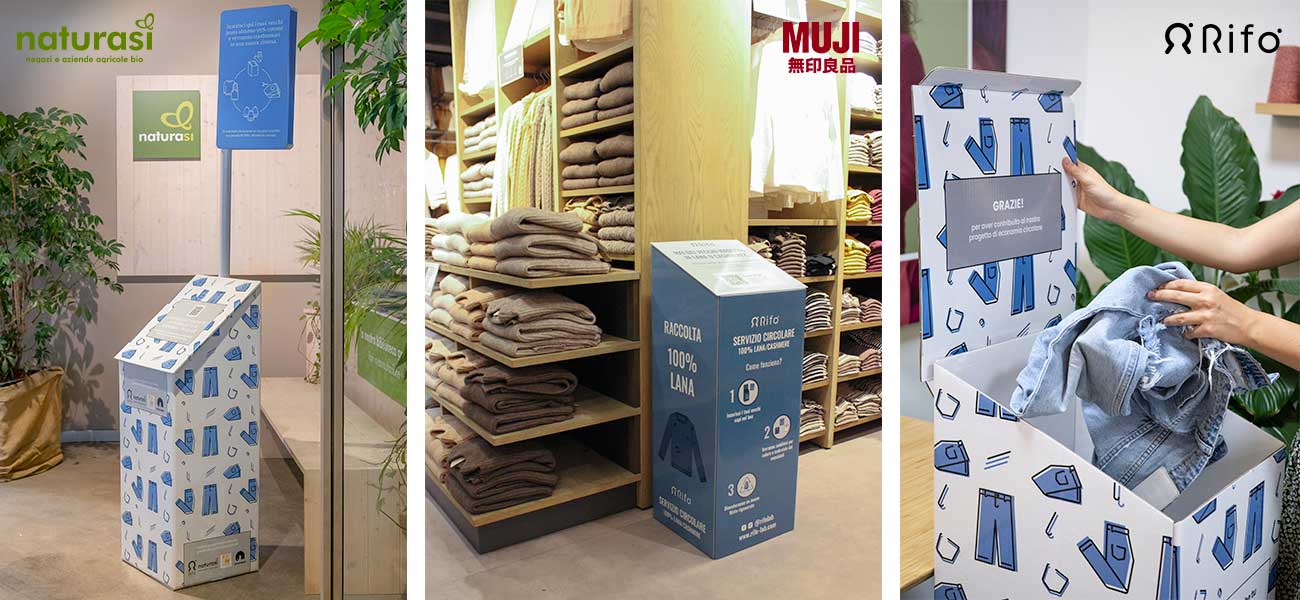 The shops that joined wool and cashmere take-back program
Find your nearest Rifò retailer store and join the circular economy. You can also find wool and cashmere drop-off boxes at Muji stores in Italy and at our store in Prato.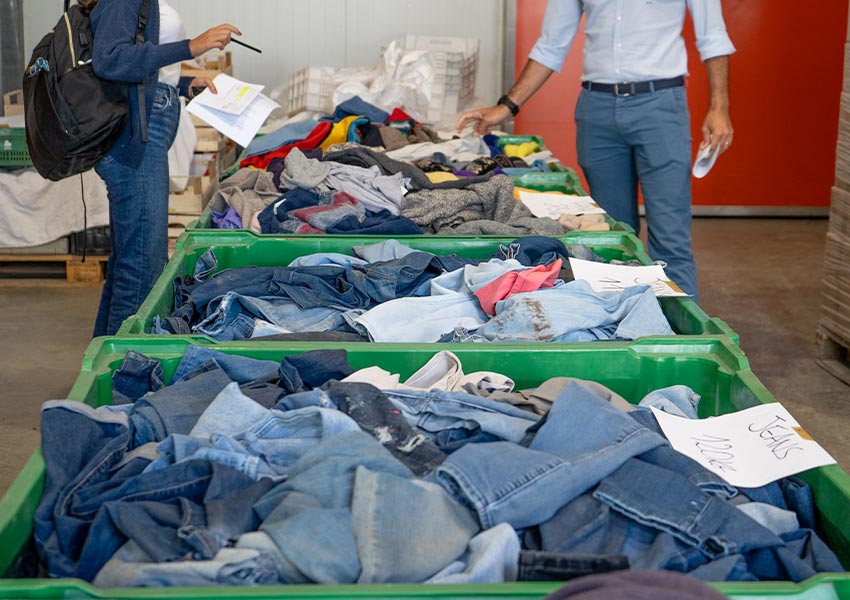 A transparent take-back
We partnered with local entities to create a circular, sustainable, and local model that follows these steps:
• Used clothing dropped off at our boxes makes its way to Bologna, at the social cooperative La Fraternità.
• Here, they are selected to be revalued as second-hand items through the network of second-hand stores AND Circular.
• If this is not possible, they are entered into the recycling process which takes place in Prato, Italy, just a few steps from our office.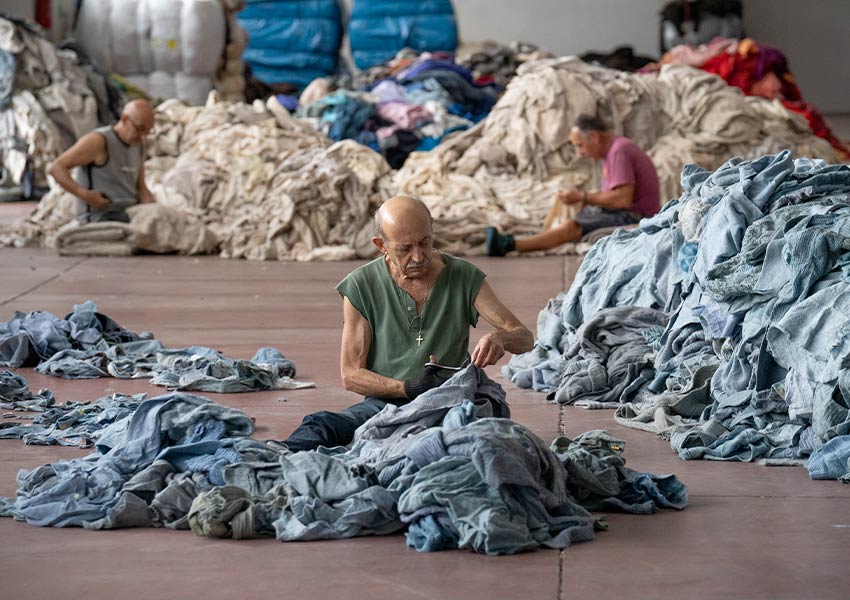 A local recycled yarn
Once selected by the social cooperative La Fraternità, wool, cashmere, and jeans return to Prato. Here, the companies in our textile district, specializing in recycling, sort them by color and composition before recycling. This process allows us to avoid the need for new, environmentally impactful dyeing.
In the case of jeans, the recycled material is then transformed by Pinori Filati Spa to create its iconic recycled denim yarn, which we use to produce our collection of recycled denim knitwear.
Similarly, the material from old wool and cashmere sweaters is transformed into new yarn by Filpucci Spa, a historic spinning mill in Prato and our supplier for creating new sustainable garments and accessories in recycled wool and cashmere.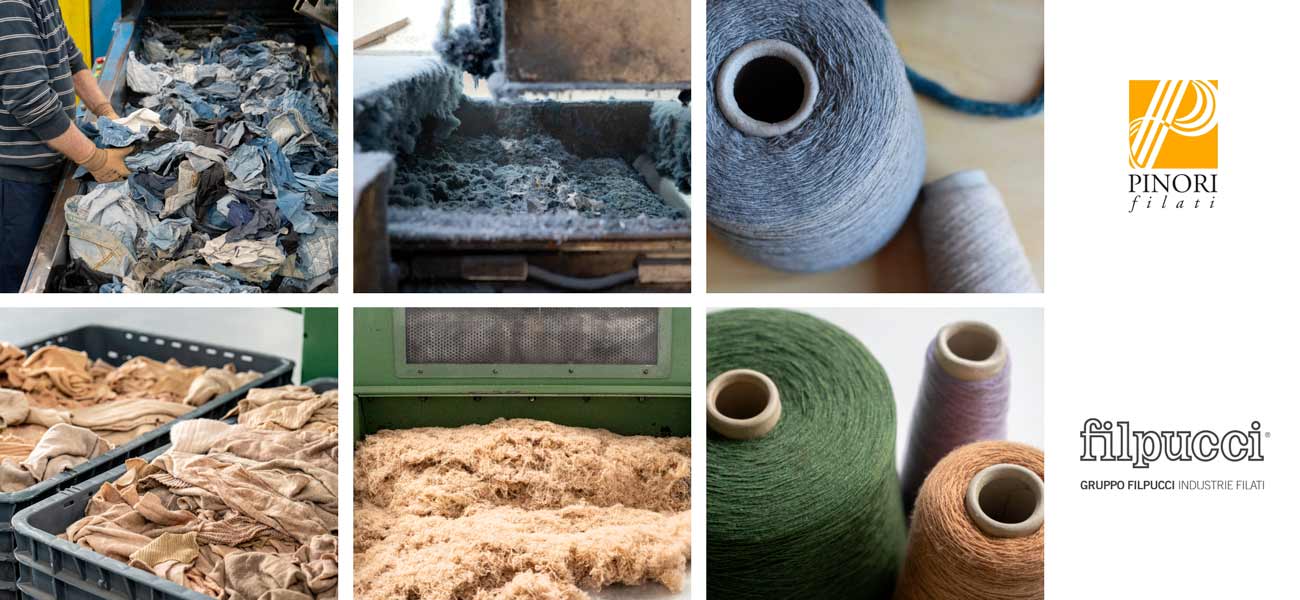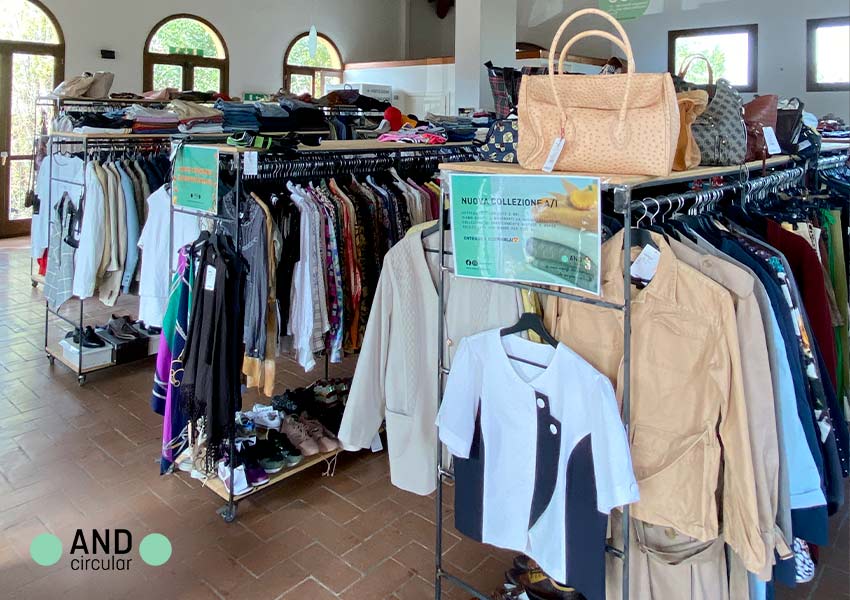 Reuse or recycle?
Reusing what has already been produced is the choice with the least environmental impact when it comes to clothing. The European Strategy for Sustainable and Circular Textiles encourages companies in this direction.
That's why we've partnered with the social cooperative La Fraternità; through its physical stores, it allows us to reintroduce that portion of clothing which, despite coming from our take-back services, can be put back on the second-hand market. Discover all And Circular stores here.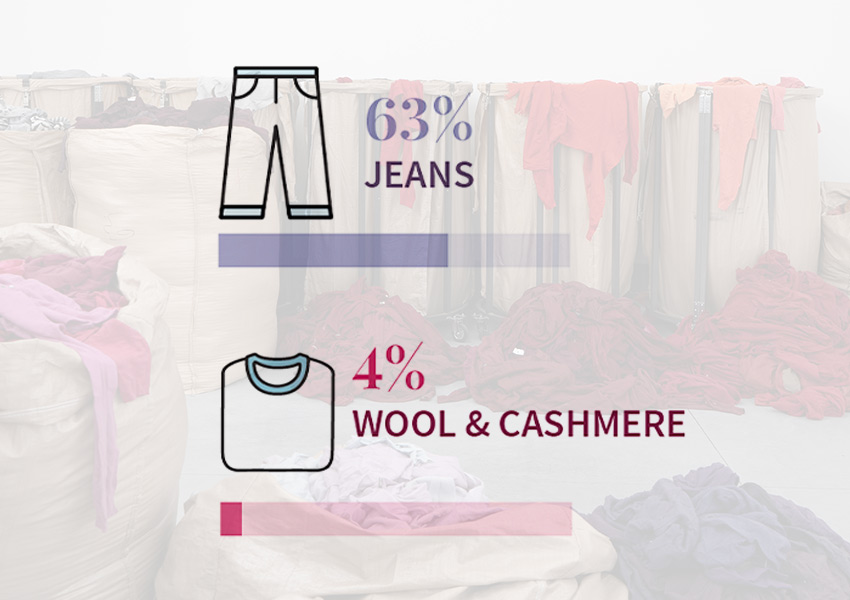 Offsetting for a zero impact
We have ambitious goals: over time, we aim to collect as many used garments as needed for our productions. This way, whether they are destined for reuse or recycling, we will ensure that we have fueled a circular and transparent chain.
This is the percentage of used garments we collected in 2022 compared to our productions: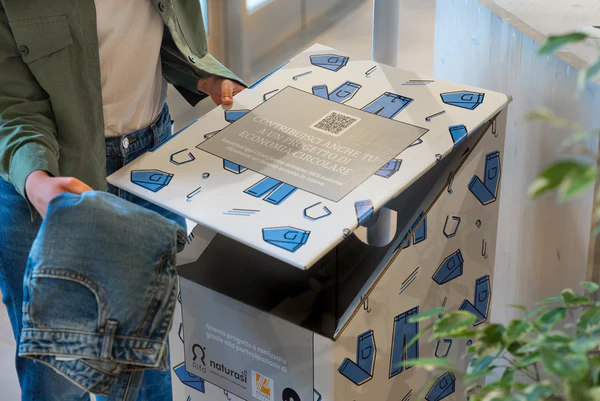 Jeans take-back service for companies
To promote the circular economy and Re-Think Your Jeans, our used jeans take-back service, we worked in synergy with many Italian companies and organizations.
We started with the network closest to us, that of B-Corps, and then the project expanded further. From now on, you can find Re-Think Your Jeans in shared spaces and workplaces such as Nana Bianca, Impact Hub, IED, and Talent Garden.
In this case, the service is accessible only to employees and individuals who visit these spaces daily.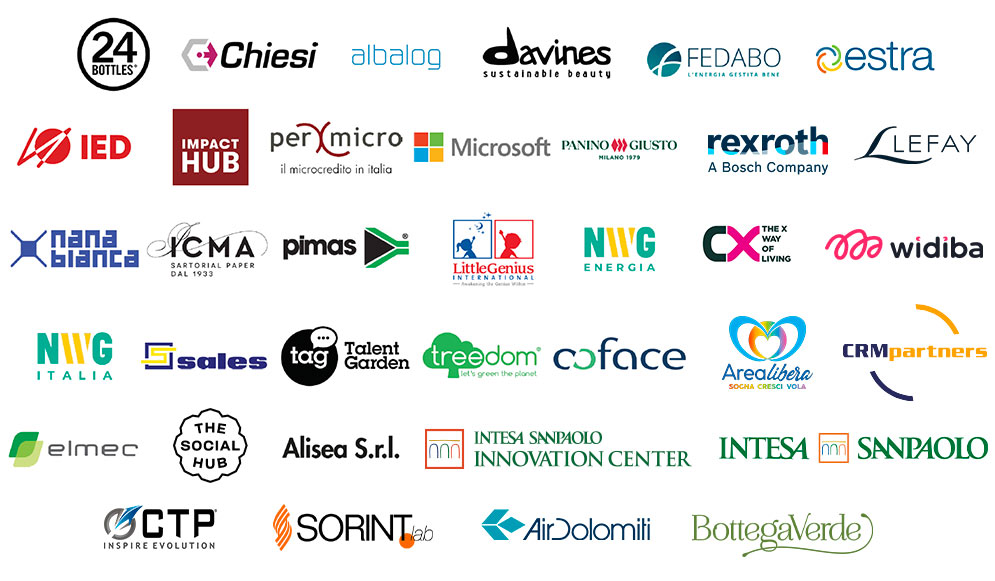 Companies joining Re-Think Your Jeans: