Do you have any cashmere or wool garments that you no longer use?
Maybe it is felted, unstitched, mothed, or broken.
No problem, as long as the label is intact, you can send it to us by following the steps below.
The service is active for Italy at the moment but we are planning to extend it soon to other countries.
1. Slect your old garments that yolu want to recycle
2. Check that they have 100% cashmere or 100% wool composition label
3. For each sweater you sent you get a 10 € discount voucher to be spent in our online shop even on pre-sale orders. The vouchers can be spent on a minimum 50 € purchase. They can't be combined on a unique order or used together with the free shipping code.

Thank you, soon you will receive the instructions to send us your old clothes.
Why 100% composition?
Before sending you our discount coupon, we will make sure that the label of your garments is intact and that it bears the wording "100% cashmere" or "100% wool". This requirement is necessary for the recycling of any textile fiber, expecially for a precious one such as cashmere.
FOREVER Service
The collection service for old cashmere sweaters is also valid for Rifò garments. In fact, you can return them to us like any other cashmere sweater.
N.B: Through the FOREVER service we do not want to encourage disposable consumption. For this reason we ask you to send them back at least after two years with you.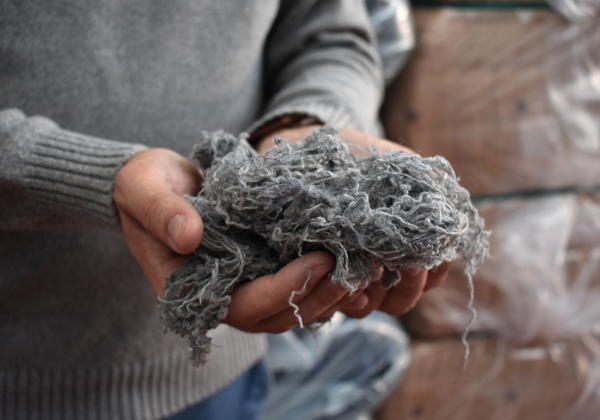 Traceability and transparency
Thanks to the Reverso system we can guarantee the maximum transparency of the regeneration process. The partner companies of Reverso supply chain are "rugsman", spinning mills and weavers who deal with sorting and sanitizing the garments and then recycling and transforming them into new yarns and new fabrics. By sending us your old wool or cashmere sweater via the Rifò collection service, you can be sure that it will be transformed into a new resource.
What happens to your
old clothes?
For the recycling of wool fibers, we collaborate with Reverso, a supply chain of local companies that have been involved in giving new life to textile fibers for years. This allows us to give everyone the opportunity to contribute to a circular economy project. In fact, we take care of recovering old clothes that would be thrown into general waste, to ensure that they are transformed into a new raw material in the form of yarn.