@recycled-material://cdn.shopify.com/s/files/1/0293/9627/1197/files/icone__2_232x.jpg?v=1595839591@@made-in://cdn.shopify.com/s/files/1/0293/9627/1197/files/icone__3_232x.jpg?v=1595839606@@social-impact://cdn.shopify.com/s/files/1/0293/9627/1197/files/icone__1_3_232x.jpg?v=1595839847@
Recycled Cashmere Poncho Anna
FOR ALL THE ORDERS OF CASHMERE PRODUCTS OVER € 200, YOU WILL RECEIVE AS A GIFT OUR LINT REMOVER JOHNNY, THE ENEMY OF PILLING!
The recycled cashmere wool poncho Anna is a warm knitted garment made by using the traditional fully fashion method.
COMPOSITION: 95% recycled cashmere, 5% recycled wool.
WASHING CARE:We suggest to wash the recycled cashmere garments by hand, to better maintain cashmere's quality. Alternatively you can choose a machine wash at a maximum of 30° with a gentle cycle. If you decide to wash them by hand, do firstly a light centrifuge to drain the water, then dry them naturally by lying them on a horizontal surface.
Rifò's recycled cashmere poncho Anna is created in Prato at Daniele's knitting factory, who has been specialising in cashmere accessories for years. The yarn used for Anna is recycled by the local "Cenciaioli" of Prato.
The recycled cashmere we use is GRS (Global Recycled Standard) certified.
For every purchase on our online shop, we will donate 2€ to the social impact project Nei nostri panni, cenciaiolis to be, which aims to create a school for ragmen, the artisans of textile recycling. Every donation will support the training of young people coming from the local immigrant reception centres.
Free standard shipping in 24-72 hours for all orders over 150€ for EU countries.
Size change and free returns within 60 days.
For shipping times and costs see our table. You can choose Repack, the reusable packaging.
Recycled cashmere poncho Anna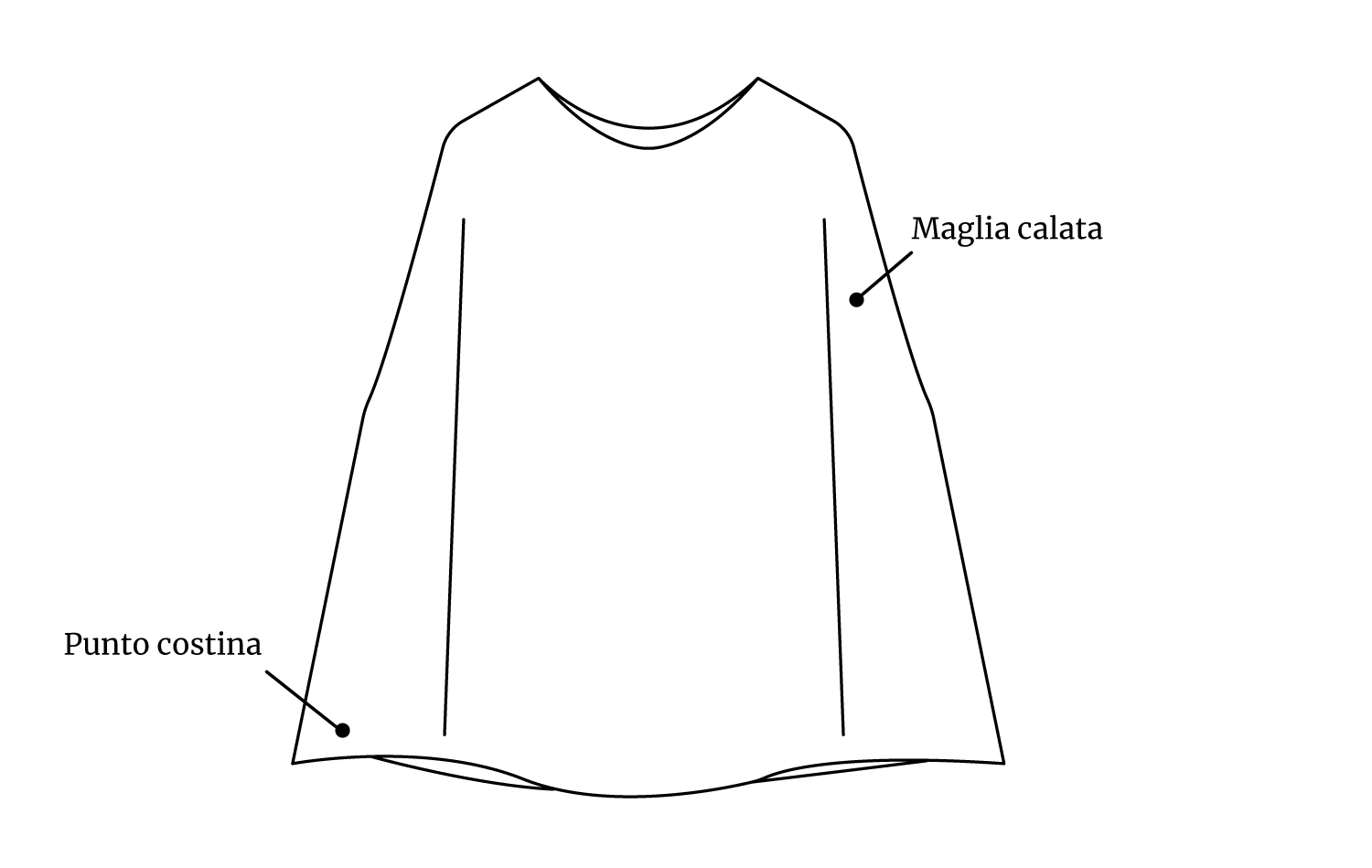 How to wear it
The Rifò ponchos are soft and very comfortable. You can wear them both as a particular sweater, or placed over a light outerwear, when the cold is arriving but it is not yet time for bulky coats. In fact, Rifò ponchos make you feel warm but lightly, enveloping you without make you feel unwieldy.
How it was made
Anna recycled cashmere poncho is made with a pre-loved yarn, because it was born from the regeneration of old clothes that continue to tell their story, despite having taken on a new shape. The old sweaters are in fact selected by color, reduced to fiber and transformed into a new sustainable yarn.
FOREVER SERVICE: If you want to give your Rifò sweater back after two years you can send it back to us and we will recycled it again. You will also receive a coupon to be used on our shop online. Visit the dedicated page for more information.
Environmental impact
Selecting old cashmere sweaters by color it is possible to avoid dyeing the recycled yarn again. This mechanical process therefore allows to save many liters of water as well as dyes and chemicals, preserving the water reserves of the planet. Furthermore, unlike virgin cashmere, recycled cashmere avoids the desertification of the Asian highlands where the goats producing the precious wool are intensively bred.
CERTIFICATIONS: Our recycled cashmere wool is certified GRS (Global Recycling Standard).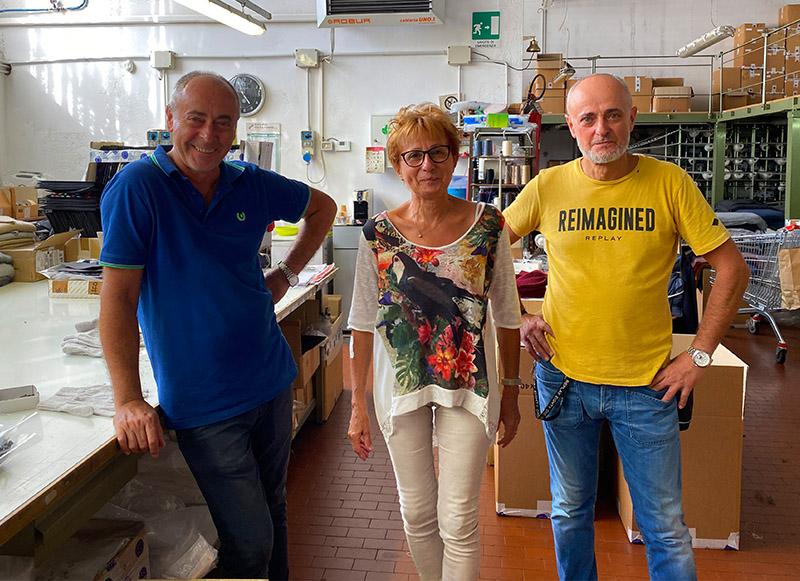 Who made it
Daniele's knitwear factory, specialized in the processing of recycled yarns, is a warranty of quality for Rifò. They create for Rifò cashmere accessories and ponchos, which are made respecting the times and techniques of the past.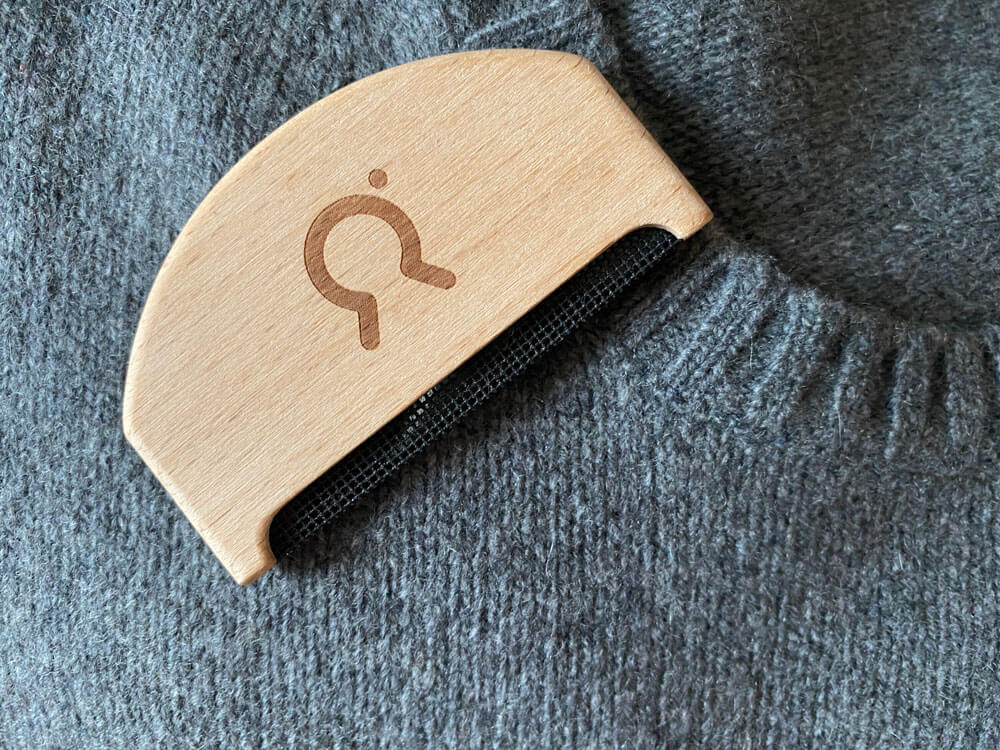 Johnny the lint remover
It removes lint and dots in a gentle and effective way. Free for orders over € 200 of recycled cashmere products, otherwise you can buy it here.
The poncho Anna was the first one we created, over the years we have made it softer and more resistant, in particular on the side splits.