@recycled-material://cdn.shopify.com/s/files/1/0293/9627/1197/files/icone__2_232x.jpg?v=1595839591@@made-in://cdn.shopify.com/s/files/1/0293/9627/1197/files/icone__3_232x.jpg?v=1595839606@@social-impact://cdn.shopify.com/s/files/1/0293/9627/1197/files/icone__1_3_232x.jpg?v=1595839847@
Recycled Cotton Jeans Sweatshirt Woman Bobbi
Bobbi women's cotton sweatshirt is made from old recycled jeans transformed into a new yarn. We designed this 100% cotton jersey fabric. Its texture is robust and consistent but not plush inside. So it is fresh on the skin, perfect for mid season. If you like a regular fit choose your normal size, while if you prefear a relaxed fit choose a size above.
Regular fit
Comfortable T-cut sleeve
Slightly shorter on the front to give roundness
Neck, bottom sleeve and lower part finished with wraparound and elastic 100% cotton rib
Jersey sweat guard inside the collar

Breathable fabric
COMPOSITION: 24% recycled cotton from old jeans, 41% recycled cotton from industrial waste, 28% organic cotton, 7% virgin cotton.
WASHING: To take better care of the recycled jeans sweatshirt, wash it at 30 degrees with a delicate program or by hand. This way you will be sure to keep the color of the jeans intact. In fact, just like pants, it is likely to slightly lighten over time.
Bobbi women's sweatshirt was made by Paola and Andrea in the family laboratory. The fabric was designed entirely by Rifò and woven with circular looms for jersey in Prato.
The recycled cotton yarn from old jeans that we used is GRS (Global Recycled Standard) certified, for the recycled part, and OCS (Organic Content Standard) for the organic cotton.
For every purchase on our online shop we donate € 2 to a social impact project. Choose the association you prefer at check-out. Find out more about the projects here.
FOR EU COUNTRIES: Free standard shipping in 3-5 days for all orders over 150€. Size change and free returns within 60 days.
For other shipping times and costs see our table. You can choose Repack, the reusable packaging.
2 YEARS LOVE LASTS WARRANTY: All Rifò garments are handcrafted with passion, respecting high quality standards. If, during two years from the purchase, you ever find some manufacturing imperfection in Rifò products, we will repair them and return them to you as new. For more information visit this page.
The recycled jeans sweatshirt Bobbi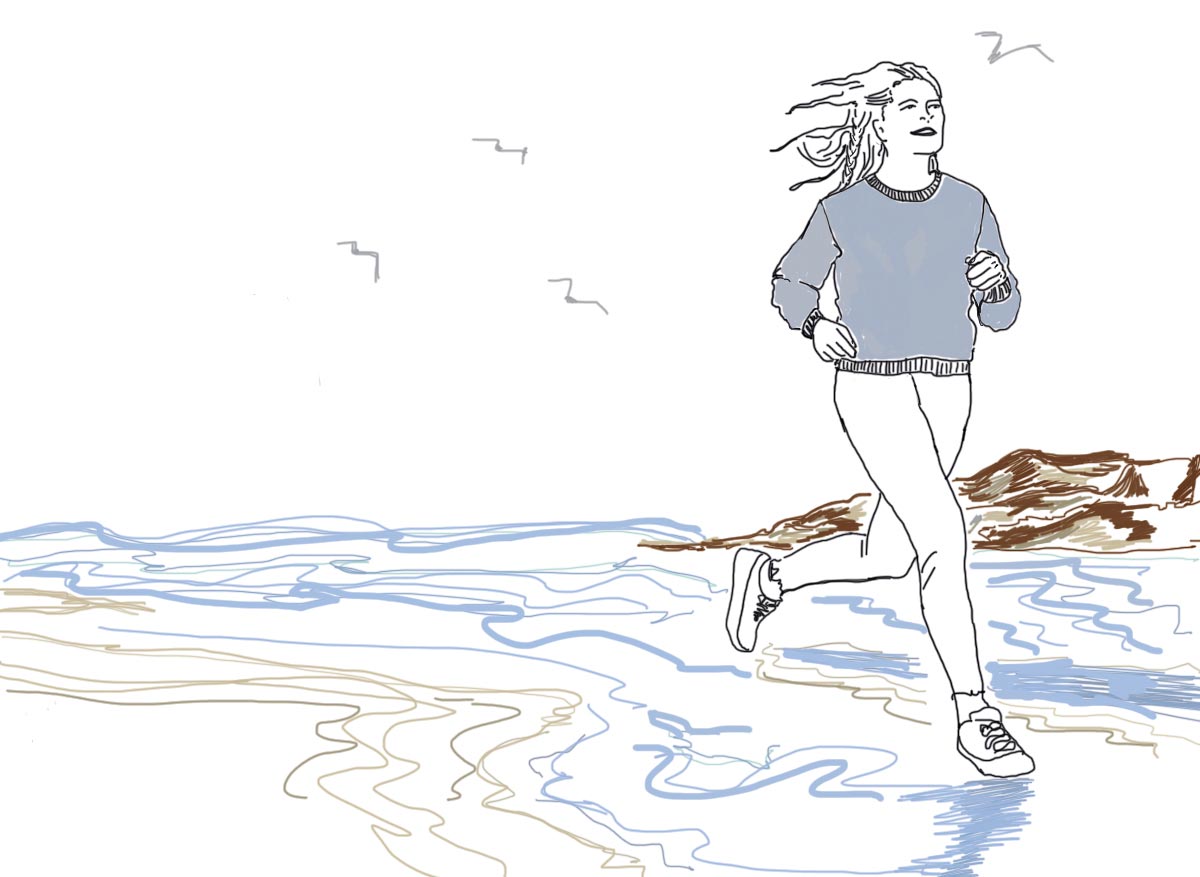 Inspiration
The garments of our recycled jeans suits are dedicated to sport and to those athletes who changed the rules of the game.
Our feminine sweatshirt is inspired by Bobbi Gibb, the first woman who run a marathon. In 1966, when women were prevented from doing this, she started the Boston Marathon mixing in with the male participants, thanks to a sweatshirt that hid her curves. After her, no woman was considered unable to carry out a Marathon.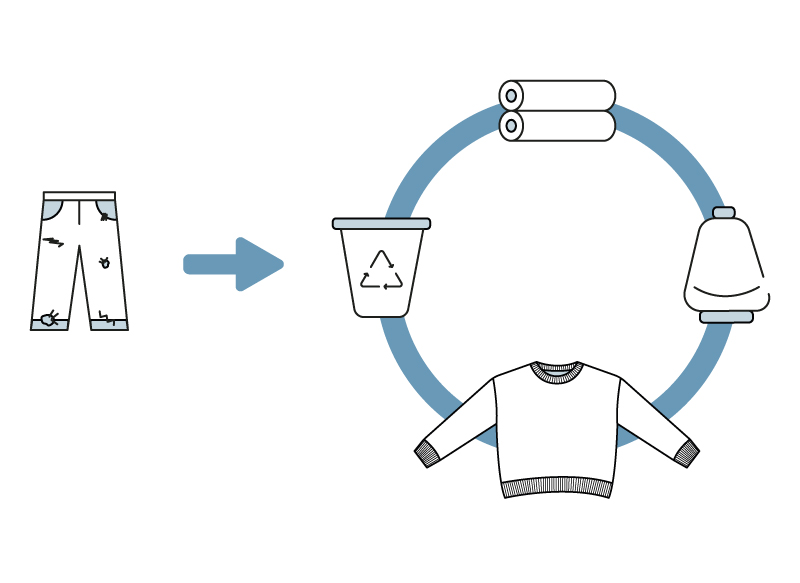 How it is made
The right side of the recycled jeans sweatshirt is made with a recycled yarn from old jeans, while the padding in contact with the skin, which gives weight and substance to the fabric, is made from 100% recycled cotton from industrial waste.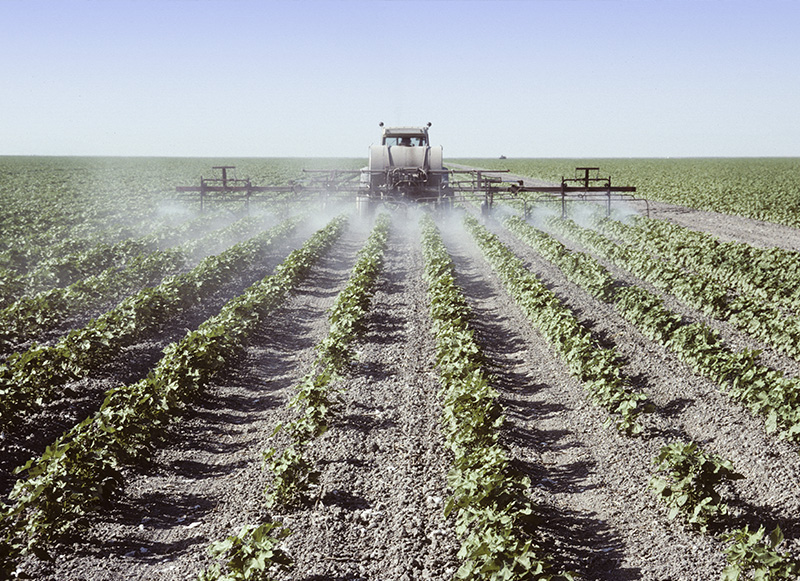 Environmental impact
Thanks to the consistent part of organic cotton, we estimate that this jersey fabric reduces at least of 28% pesticides and harmful chemicals used in cotton cultivation.
We can say the same of recycled cotton, which represents 65% of this fabric overall. As it is recycled, not even one centimeter of agricultural land has been used for its production, and also the consumption of resources and energy, due to its original cultivation, is thus reduced by almost 50%.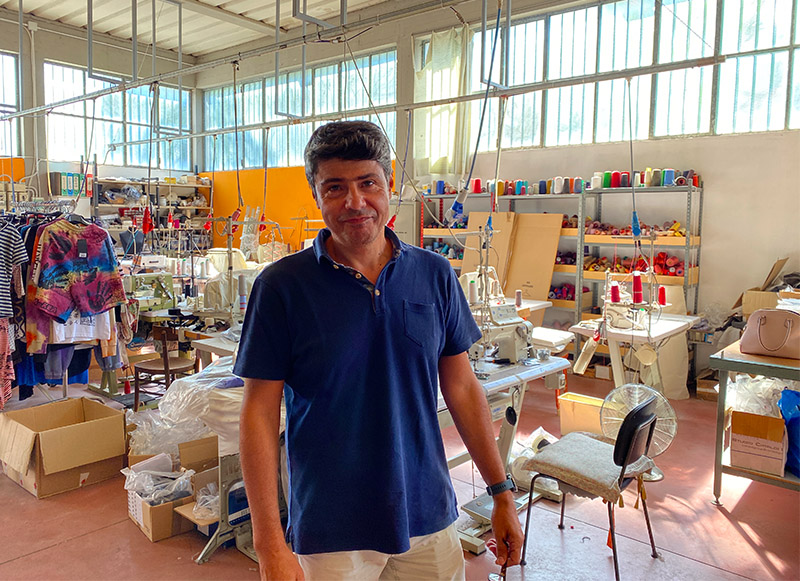 Who made it
In his laboratory in Prato Andrea has been making jersey garments for a lifetime. This is why we chose him for our recycled denim jumpsuits.
Bobbi women's sweatshirt is our first experiment with recycled jeans jersey. The beginning of a love story.