@recycled-material://rifo-lab.com/cdn/shop/files/RECYCLED-AND-RECYCLABLE_129d7618-8d99-4120-ba62-31a39c500e4b_232x.jpg?v=1689341265@@made-in://rifo-lab.com/cdn/shop/files/REMADE-IN-ITALY_e5d4f298-cc6a-4c4e-8220-ed7f4fbcf220_232x.jpg?v=1689341143@@social-impact://rifo-lab.com/cdn/shop/files/SOCIAL-IMPACT_b9b9a263-21d3-4a44-a48e-f8c5852f0bad_232x.jpg?v=1689340982@
Have a positive impact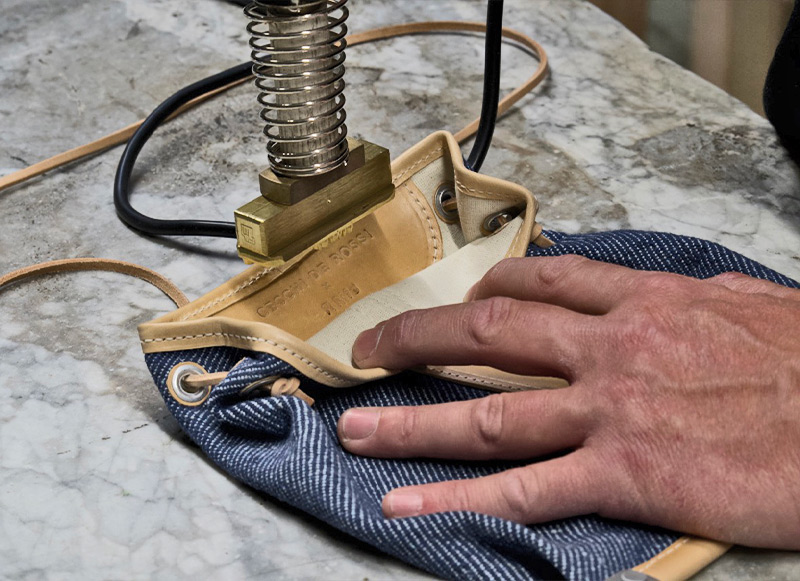 Cecchi de Rossi x Rifò
Rifò's first real bag was created in collaboration with Tommaso Cecchi de Rossi, a designer with whom we share a passion for made in Italy, a sustainable vision of the future, and love for our territory.
Cecchi de Rossi bags are made about 30 km from our office, in an artisan workshop nestled in the Tuscan countryside.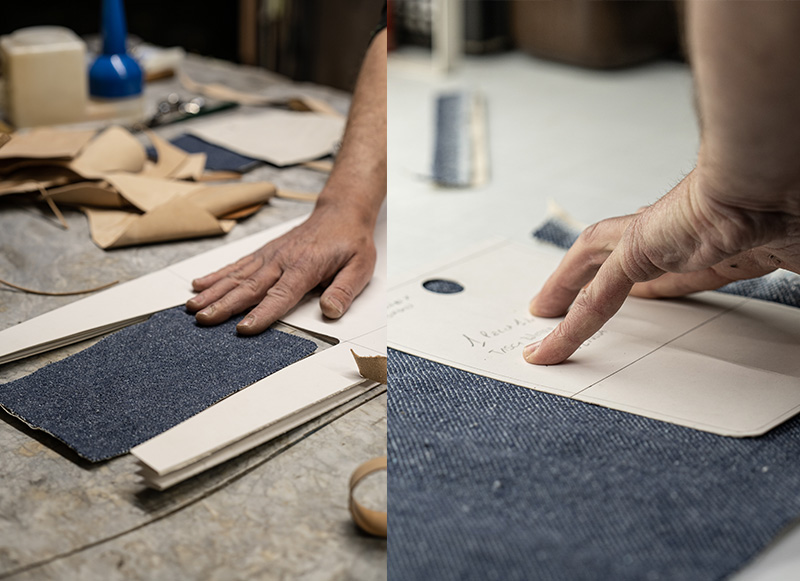 Anti-waste loop design
Nocciolino is made of a single cut of denim fabric folded back on itself, with few seams required. The leather used is zero-waste too:
• It comes from farms that are not exclusively aimed at leather production
• Cecchi De Rossi normally uses leather scraps from parts of the animal which otherwise would be disposed
• These bags were realized only with leftovers and offcuts from Cecchi de Rossi's production. Small stripes were cut to size and joined together.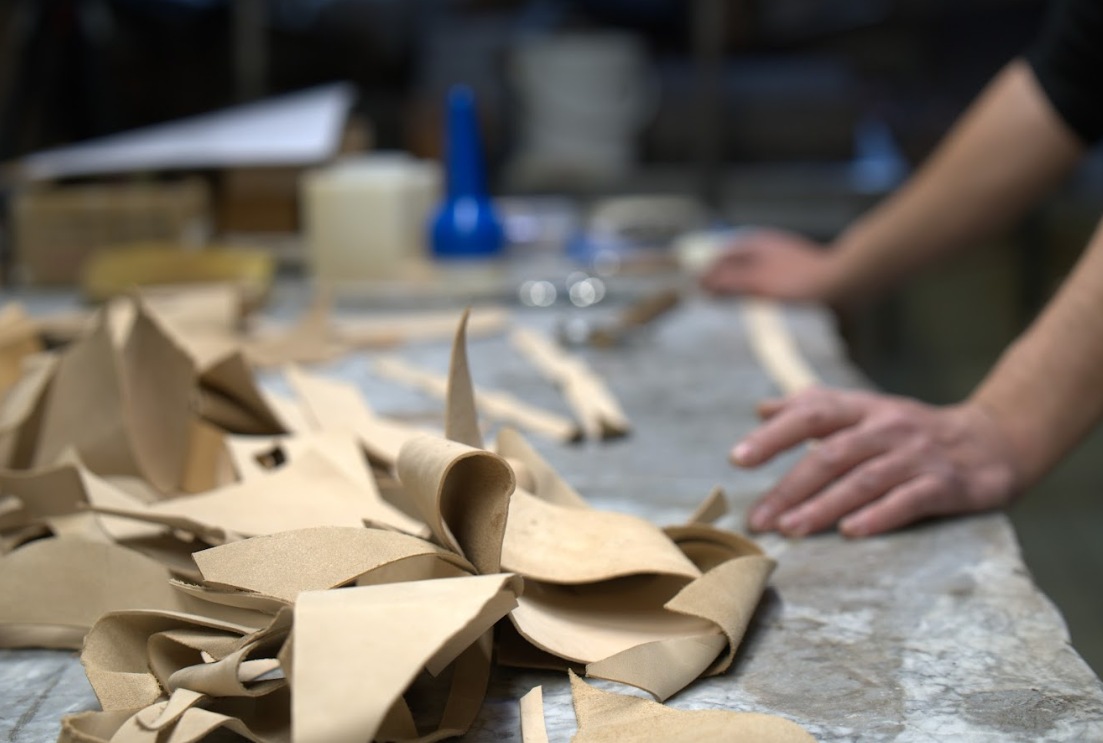 Sustainable leather
Vegetable leather always contains a varying percentage of plastic. That is why we chose to **rely on a leather designer, an artisan who selects this material carefully, ensuring an ethical, zero waste production with no unnecesary animal suffering, in compliance with labour regulations.
This results in products that will last over time, made to be passed from generation to generation and therefore sustainable.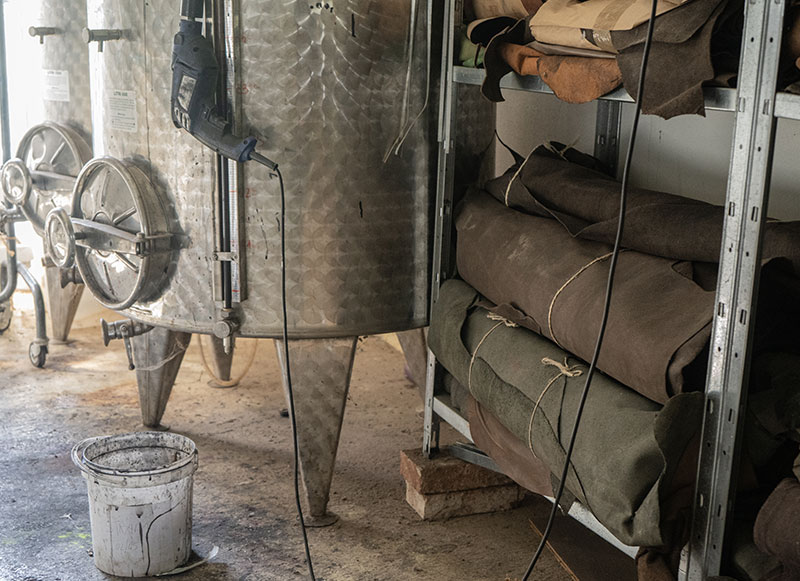 Natural PelleVino dyeing
Both this leather's tanning and coloring involve all-natural substances. In particular, the "PelleVino " technique, patented by Cecchi de Rossi, uses wine's tannins as a solvent, penetrating and fixing agent.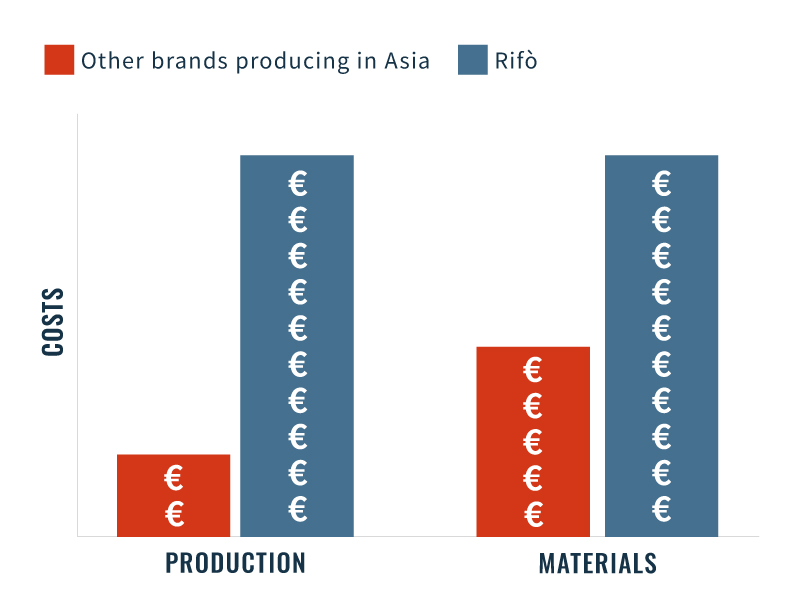 Transparent prices
Why do we say our prices are fair 365 days a year?
Because we choose to produce in Italy, with valuable craftsmanship. Because we choose quality raw materials that are sustainable for the planet. Because we produce small quantities to limit waste, which makes it difficult for us to lower unit costs.
That's not all. Compared to our costs, we have a low profit margin. We don't intend to accumulate wealth, we rather reinvest in research, which allows us to create value and grow as a brand.
Thanks to presale it's possible to get a discount and avoid creating overproduction.
For presales that are longer than 2 weeks, the closer you get to the shipping date, the more the discount applied will decrease, never going below 10%.
The presale ends one day before the date indicated.